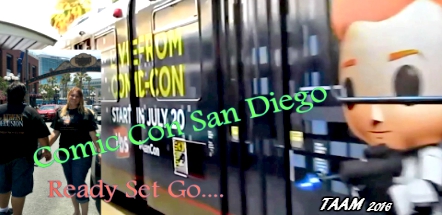 We have some exciting news that we are eager to share with you. You may already know that in 2012, God radically made some amazing changes in Joe and Stacey's life by calling them to street evangelism. As time went on, the Lord called them to go deeper in this new found ministry by teaching others to share the gospel and defend the faith, as well. Joe and Stacey did this by teaching classes where they could equip believers to practically share the gospel and defend their faith. But they didn't stop there. They then took these believers to malls, parks, and other public events to live out what they were taught. This led to the forming of Throughout All Ages Ministries (TAAM). The ministries purpose is to equip believers to share the gospel and defend the faith through simple, straightforward teaching methods, and then give opportunities for those believers to practically live it out.

Throughout All Ages is a non-profit U.S. 501(c)(3) charitable organization. All gifts and donations are tax deductible in the United States.
In order to make a recurring donation please make an account with Paypal first.
(Easy setup- Name, Email & Password ) A. Go to Paypal. Here https://www.paypal.com/us/home /
B. Click Login or Sign Up.
C. Personal Account
D. Name, Email, Password and click next. / E. Now, choose a donation amount from our site.
This is a Recurring Donation for 12 months.
Pick an option and then Click on Puzzle.
Paypal is secured & safe. Click here learn more


(If you are using a mobile device
and are making a one time donation or
another amount go to the bottom of the page.)
https://www.paypal.com/us/home
Y
ou can mail in checks, money orders &
cashier checks etc.

Throughout All Ages Ministries
6977 Navajo Rd. #170
San Diego, CA 92119
In 2016, Throughout All Ages Ministries became a nonprofit organization, with a full board, ready to move forward with all that God has in store. Since then, there have been many amazing and divine opportunities that have come about. Opportunities like partnering with Christian Home Educators Association of California (CHEA), Creation Today, Creation and Earth History Museum, Living Waters, Educate for Life, and Fellowship of Christian Athletes. All this in one year… and so many more opportunities on the horizon.This coming year, Throughout All Ages Ministries, is expanding far beyond what Joe and Stacey could have ever imagined… but not unknown to God!
"Behold, I will do a new thing, Now it shall spring forth; Shall you not know it?"
- Isaiah 43:19
Through prayer and reverence, Joe and Stacey continue to seek out God's vision for TAAM and be obedient to the call. They know that, in order for Throughout All Ages Ministries to be even more effective it will require like-minded believers to come alongside to support the ministry. Which is why we are now presenting this opportunity to you. If you have the same desire to see believers equipped and trained to share the gospel and defend the faith we are asking for your help.
"But sanctify the Lord God in your hearts, and always be ready to give a defense to everyone who asks you a reason for the hope that is in you, with meekness and fear;"
- Peter 3:15
Sadly, the downgrade in this culture has been extremely concerning. 65% to 85% of students who grow up in a Christian home will walk away from their faith once they leave their home. These results are staggering and this is all because they do not have the answers to hard-pressed questions. There is an urgency that can no longer be ignored.
The sad part of this is that this problem can be easily corrected. There are simple, biblical answers to every seemingly hard-pressed question that our youth will be faced with. God has placed a vision in Joe and Stacey's heart to go into high schools, colleges, churches, orphanages, homeless organizations, and anywhere else God may lead to teach them answers to questions that are not being answered. Which is why they are forming a new branch under the umbrella of TAAM called 15/30 Apologetics.
The purpose of 15/30 Apologetics is to secure a strong foundation for the faith of our youth by offering classes that provide the youth biblical answers through simple teaching methods geared toward their understanding. Although, not everyone is called to this task you can definitely come alongside the ministry. As we go into our community and far reaching areas, Joe and Stacey, and 15/30 Apologetics more than ever covets your prayers. Also, if you would so graciously partner and support these efforts on a monthly basis or even a one time gift, it would make a significant impact. Please consider taking this journey with us as God goes before us in all we say and do. The Word of God is a treasure which should not be hidden and the truth should not be neglected.

We want to thank you in advance for participating with Throughout All Ages Ministries. We love you, dear brothers and sisters!
"Let nothing be done through selfish ambition or conceit, but in lowliness of mind let each esteem others better than himself. Let each of you look out not only for his own interests, but also for the interests of others. Let this mind be in you which was also in Christ Jesus, who, being in the form of God, did not consider it robbery to be equal with God, but made Himself of no reputation, taking the form of a bondservant, and coming in the likeness of men."
- Philippians 2:3-7
Sincerely, Throughout All Ages Ministries
Joe & Stacey Gaona
Cell 619-733-2736
Reaching the lost & Warning day and night with tears.
https://www.facebook.com/throughoutallagesministries/